The Venue at Horseshoe Casino Information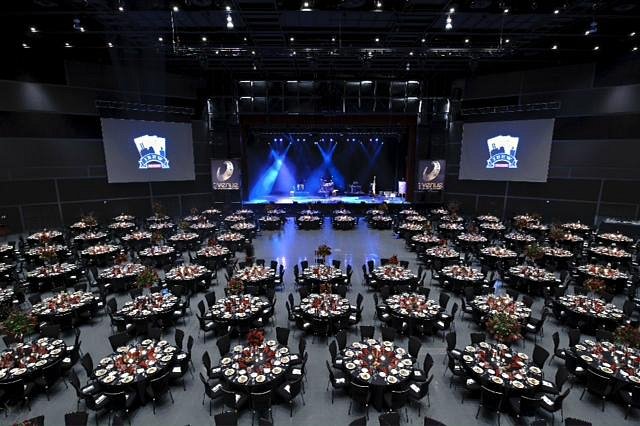 You can't talk about The Venue at Horseshoe Casino without talking about the casino itself. And it has a fascinating story to tell.
It all began when the casino first opened in 1996 as Empress Casino, a 54,000 square foot four level gambling vessel. It came about after Horseshoe Gaming Holding Corporation was established in 1993 as a private holding company that was mostly owned by Jack Binion. Later, in 1999, the corporation acquired Empress Casinos, including both the Hammond property and another Empress Casino in Illinois. After the sale, Hammond property was rebranded as Horseshoe Casino Hammond on May 4, 2001.
Then in 2004, the corporation was sold to Harrah's Entertainment (which had rebranded to Caesars Entertainment in 2010),. The current casino was opened on August 8, 2008. Ownership
"The Venue"
The venue is the Horseshoe Casino's event space. And it is a 90,000 square foot space designed by Canadian designers Sceno Plus, who are best known for their work with Cirque du Soleil theaters in the US. It features some seating variance to allow standard seated events and general admission spaces for more contemporary shows.
It first opened on August 8, 2008 with a midnight Asian show featuring Andy Hui and William So as it's opening act. Since then, the venue has been used for concerts, banquets, trade shows, and more.
The venue prides itself on hosting a lot of shows. Including over 200 shows and events in its first three years of existence. And these don't just include concerts, musicals, comedy shows, and other live performances. The venue has also hosted major events including The Great Midwest Smokeout and the Chicago Circuit Championship of the World Series of Poker.
And here's a short list of some of the legendary performers who have taken to "The Venue" stage.
Bette Midler

Alicia Keys

Smashing Pumpkins

Mo'Nique

James Blunt.
More The Venue at Horseshoe Hammond information:
Ticket Policies:
Policies and authenticity guarantee regarding tickets from our recommended ticket marketplace.
Seating Chart:
View the standard The Venue at Horseshoe Hammond seating map and read about different seating options.
Parking Information:
Information about the The Venue at Horseshoe Casino parking options.